TO LIST YOUR DAYCARE WITH US

CLICK HERE:

HOW DO I START MY OWN HOME DAYCARE?

#1 The First thing you need to do is contact your
"State Daycare Licensing Agency".

They will put you in touch with your local county agency. Usually they will send you a packet of information with application, regulations and other steps needed in getting your license needed.

Not all states require you to be licensed, some just require you to be registered depending on how many children you will be caring for. Many states do require you to be licesened if caring for 5 or less children but still may require you to be at least registered.

Regulations differ from state to state and regulations are also different for home daycares than for daycare centers.

For state by state daycare regulations go here: http://nrckids.org/STATES/states.htm

When applying for your license or registration, you may need to meet, but is not limited to, the following requirements:

* Complete the application process.
* Submit your licensing fees.
* Attend to possible physical changes needed on your house to pass a safety inspection.
* Complete required training, including Early Childhood Education courses, CPR and First Aid.
* Have an up-to-date physical on record.
* Provide background checks on everyone living in your household or substitute providers you plan on using.
* Arrange for a premise inspection by a fire marshall and county official.
* There are different types of licenses to apply for depending on how many and what ages of children you are planning on caring for.




If you need licensing information go to our state listings page and select a state you will find state contact information. Or go here: http://nccic.acf.hhs.gov/statedata/dirs/display.cfm?title=licensing

STILL HAVE QUESTIONS? EMAIL US @

daycaredirectory@hotmail.com
---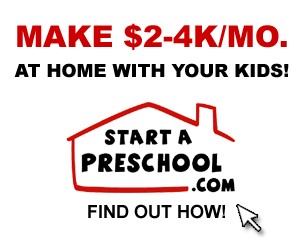 ----------------------------------------------------
Daycare Grants & Loans: The Real Scoop How to Get Daycare Funding Through Grants & Low-Interest Loans One of the things I get asked most often is, "Are there really grants out there for starting a daycare, and how do I get one?" I wrote this special report to answer this often-asked question and to provide you with the REAL secrets to getting a grant or low-interest loan! In this report you will learn: Where to find grants and loans How to apply for grants and loans to maximize your chance of success How much you can expect to receive from these programs Much more! 17 Pages, Available as a downloadable E-Book $49.00 On Sale $9.95
Go Here
Home Daycare Provider Business
& Tax Information
Tom Copeland Business Webinar May 8th
Participants will learn how to make better financial decisions between now and their Money Management & Retirement Guide retirement.
Content includes:
How to reduce your spending
How to increase your savings
How to reduce your debt
What is acceptable and unacceptable debt
How to set short and long term financial goals
Managing Your Money to Meet Short Term Goals
MORE INFO HERE
---
What to do When Children/Parents Damage Your Property?
It can happen at any time:
• A child breaks one of your toys
• A child breaks a personal items of yours (chair, eyeglasses)
• A parent tips over and damages a lamp
• A child loses her hearing aid
Accidents happen, but sometimes the damage is more than you bargained for.
Read More
---
2013 Taxes Done? Now Take These Ten Steps
If you have completed your 2013 taxes, congratulations!
Here's a checklist of final steps you should take as a
family child care provider before you can forget about last year's taxes:
Read More
---
RESOURCES