Let us Design T-shirts for your Daycare Center,
Home Daycare, or School
Daycare T-shirt Designs & Web Page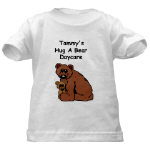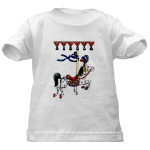 SAMPLE T-SHIRTS
See Two of Our Happy Customers!!!
Click Picture for larger view
(go here for premade Teacher t-shirts & other teacher items:)
www.cafepress.com/daycaretshirts/354276
We can make t-shirts for your Daycare or School. We will design your T-shirts and post them on your own WEBPAGE. You are not obligated to buy a minimum # of shirts or other products.
TO SEE OUR DAYCARE T-SHIRTS SHOP
GO HERE
TO VIEW DAYCARE SAMPLE T-SHIRT SHOP/WEB PAGE GO HERE
GO HERE
For Product Information click on individual merchandise and the it will give you information for each product.
Example Product Information: Kids T-Shirt
The most comfortable T-shirt ever! Our 100% cotton, Hanes Beefy-T is preshrunk, durable and guaranteed. 6.1 oz. fabric - luxuriously soft 100% cotton ring-spun yarn Double-needle coverseamed neck Taped shoulder-to-shoulder Double needle sleeve and bottom hems Our printing is better than ever — full of detail and color — and exceptionally fade resistant wash after wash.
Once you make your payment for one time design fee, we will begin making your design. You will need fill out our form listing the options of design/print choice and we will put your design on all items available.
(t-shirts, hats, bags, mugs etc....)
You can to choose to buy any of the items you are not obligated to buy an
certain items your design it printed on.
TO SEE DESIGN/PRINTS
GO HERE
When design is finished, we will send you a sample for your approval, then we will post your merchandise on-line and notify you. Then you can go to our online store and purchase whatever you want. Merchandise is not printed in advance, once you place your order and make your payment then cafepress will print your items and send them directly to you.
(payment of actual t-shirts is made to cafepress, design fee is made to us)
Just follow the instructions on-line for ordering and payments options. You can buy t-shirts for you, your staff or children. Parents and other clients of yours can go on-line and buy merchandise too. All you need to do is give them the website address. You can return as many times as you want and purchase items again and again. T-shirts and other merchandise will reflect prices of other merchandise on our on-line shop
(all toddler shirts $8.99, all kid shirts $14.99, adult shirts $15.99 etc.....)
We can post the name of your daycare, address and phone# email address ect....
at the top of your page (Free advertisement)
If you have your own daycare website we can set up a link to and/or from on your T-shirt webpage.
We suggest you read Cafepress.com's
Satisfaction Guarntee
before purchasing T-Shirts.
Returns and Exchanges
CafePress.com offers a 30-day money back guarantee on all products. If you would like to return or exchange an item, you need to fill out a request form, and we (Cafepress) will send you an RMA and instructions on how to send the item(s) back. Shipping charges are not refundable.
If you do not want to purchase a design and have your daycare name on t-shirts or an other merchandise, then just go to our shop and buy them individually on-line.
GO HERE
If you have any questions regarding T-shirts, please email us at:
daycaredirectory@hotmail.com